Description
Kurssi lyhyesti
Opiskele itsenäisesti koko kuuden viikon online-kurssi.
Simulaatiometodi

puhumisessa: saat realistisen kokemuksen YKI-tilanteesta

Päähuomio on

tuottamisen taidoissa

: puhumisessa ja kirjoittamisessa

Saat kirjoittamiseen tukea lisämaksusta.

Saat kurssilta

itseluottamusta YKI-testiin

. Tiedät jo, mitä pitää tehdä eri tehtävissä ja voit keskittyä antamaan parhaan suorituksesi suomen kielessä.

Lisenssi on voimassa kaksi kuukautta, jonka jälkeen voit uusia lisenssisi alennettuun hintaan 50 e. Tämä hinta ei sisällä palautetta teksteistä.
Oppikirja
Gimara: Ykäänkö vai Ykiinkö. Highway to hill.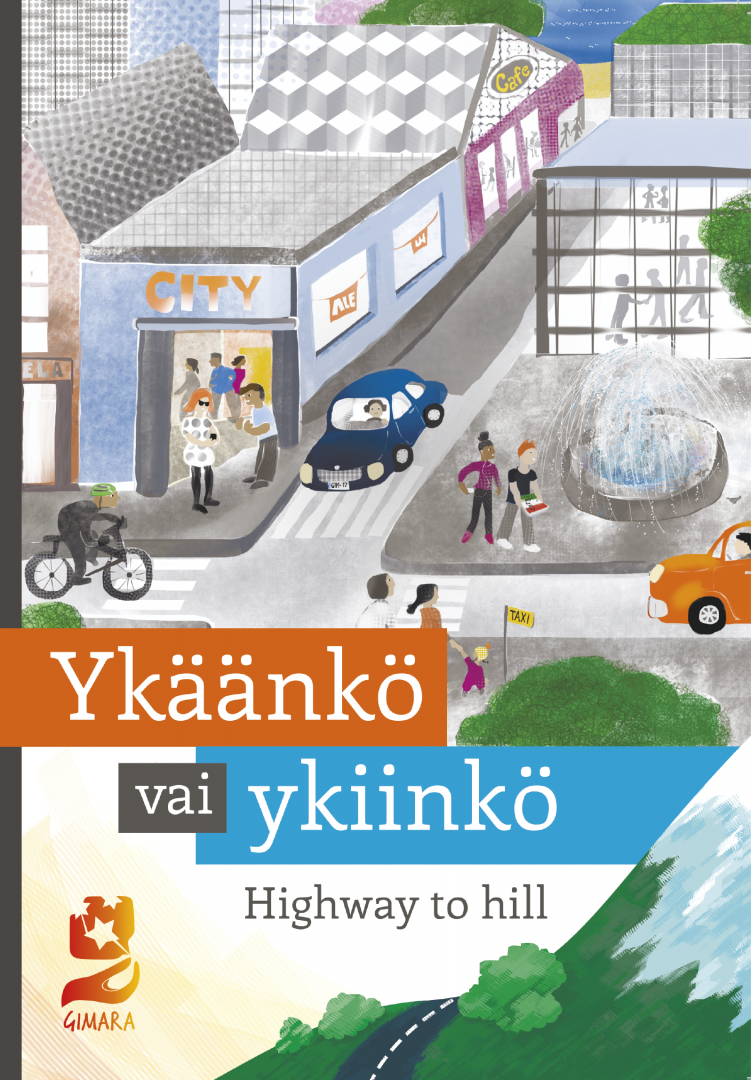 Voit ostaa kirjan edullisimmin  Gimaran verkkokaupasta (pdf tai paperiversio)
Voit lainata kirjan kaverilta tai kirjastosta.
Voit tarkistaa, löytyykö kirja sinun kirjastosi Ellibs-verkkokirjastosta. 
Ohjelma
Maanantai: Sanasto. Vocabulary.
Tiistai: Puhuminen. Speaking. 
Keskiviikko: Puhuminen. Speaking.
Torstai: Kirjoittaminen. Writing. 
Perjantai: Lukeminen tai kuunteleminen. Reading or Listening.
Mitä saat kurssilta?
Esimerkkilauseita sanastosta.
Hauskan oppimispelin, jonka avulla voit harjoitella sanastoa tietokoneella tai puhelimella.
Esimerkkivastauksia puhumisen ja kirjoittamisen tehtäviin kirjoitettuna.
puhumisen tehtävien harjoitteluäänitteen
3 lukemisen tehtäväkokonaisuutta
3 kuuntelemisen tehtäväkokonaisuutta
Eri osakokeiden (puhuminen, kuunteleminen, lukeminen, kirjoittaminen) esittelyt
3 harjoitustekstin tarkistusta
Mitä opiskelijani sanovat?
"Opiskelin hänen 6 viikon YKI-treenikurssilla. Se auttoi minua todella paljon YKI-testissä. Sanastoni lisääntyi merkittävästi enkä enää ujostele, kun puhun tietokoneelle tai kirjoitan tekstin suomeksi. Hän todella piti huolta kaikista opiskelijoista ja varmisti, että opiskelijat ovat hyvin valmistautuneet ennen YKI-testiä. Jos et vielä tiedä, missä opiskella, tsekkaa hänen kurssit."
"Marin YKI-treeni oli tehokasta. Minä olin väsynyt pitkästä päivästä mutta minä pystyin harjoittelemaan koska harjoitukset eivät tuntuneet työläältä. Aktiivisella osallistumisella onnistut todennäköisemmin parantaa kieltäsi. Kannattaa tehdä muistiinpanoja säilytettäväksi. Myös voit käyttää niitä itsenäisiin opiskeluihin."
"YKI-treeneissä Marin kanssa harjoittelimme tehtäviä erilaisissa kokeissa (lukeminen, kuunteleminen, kirjoittaminen ja puhuminen). Me analysoimme tilanteet tarkasti ja Mari näytti esimerkkejä ja vastauksia. Testin aikana olin rauhallinen, koska tehtävät ja tilanteet olivat tuttuja. Se on todella hyvä kokemus tehdä testi hyvin! Kiitos!"
"Kiitos Marille YKI-testiin valmistautumisesta! Ensimmäinen – tiesin mitä tehdä testeissä, on hienoa, kun ymmärrät ohjeet! Toinen- harjoittelimme kaikenlaisia tehtäviä: kuuntelua, puhumista, lukemista ja kirjoittamista. Treenattiin paljon eri aiheista ja se auttoi YKI:ssä! Marin ansiosta olin rauhallinen ja valmistautunut! Kiitos paljon!"
---
Course briefly
Study independently whole six weeks online course.
Simulation method

in speaking: you will get a realistic experiment of YKI situation

The main focus is on

productive skills

: speaking and writing

Extra support for writing by extra fee.
The course gives you confidence

to give your best in Finnish language at YKI. You'll already know what kind of assignments there are and know what to do.

The licence is valid for two months. After that you can renew your licence in 50 euros discount price. This price does not include feedback of texts.
Studybook:
Gimara: Ykäänkö vai Ykiinkö. Highway to hill.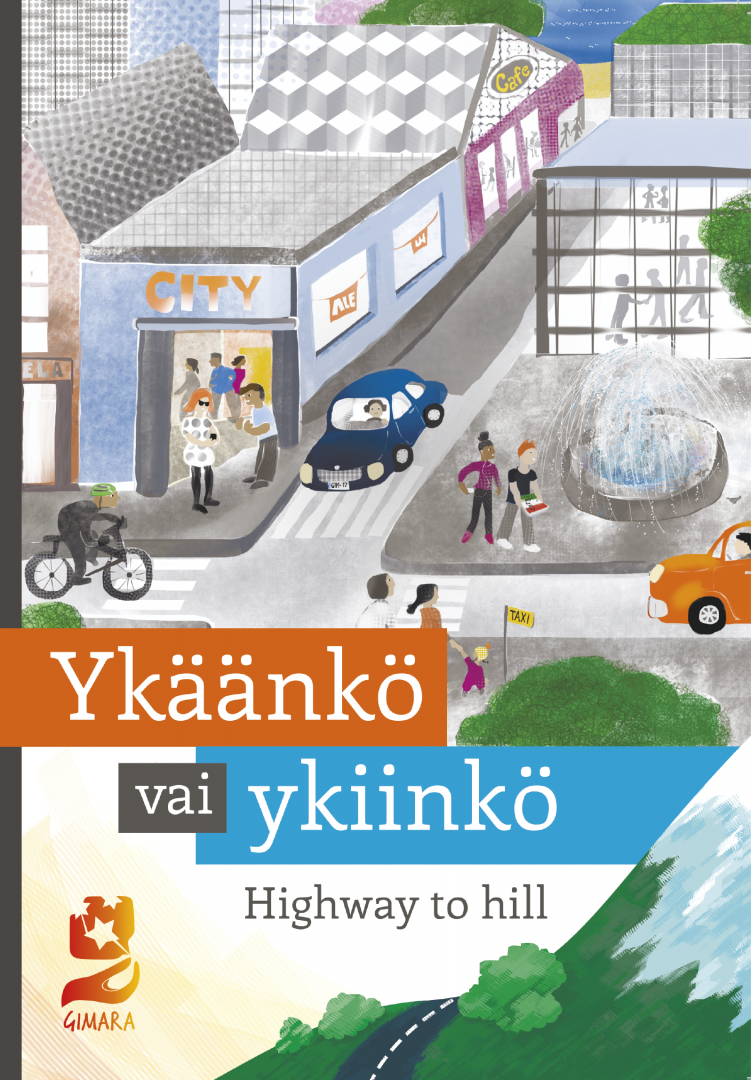 You can buy a book in a most affordable price at Gimara's webstore (pdf or paperbook)
You can loan a book from library or friend.
You can check if the book exists in Ellibs-verkkokirjasto. 
Course program
Mondays: Vocabulary with a practising game and example sentences.
Tuesdays:  Speaking.
Wednesdays: Speaking.
Thursdays: Writing. 
Fridays: Reading or Listening.
What will you get?
Example sentences of vocabulary
A fun learning game to study vocabulary using a computer or a phone
Written examples of answers in speaking and writing assignments
A time stamped study recording to practise speaking assignments
3 wholes of reading assignments
3 wholes of listening assignments
Presentations of all part test (talking, listening, reading, writing)
3 revisions to texts of writing assignments
What do my students say?
"I took a 6 week yki treenikurssi from her. It helped me tremendously in the exam! My vocabulary has increased significantly and I'm no longer shy to speak in front of a computer or write an essay in Finnish. She really took care of all students and made sure that they are well-prepped before the test. If you don't know yet where to study, check out her courses."
"Mari's YKI training was effective. I was tired after a long day but I was able to train because the assignments didn't feel laborious. By participating actively you will succeed to improve your language. Notes are worth keeping. You can use them also in independent studies."
"In YKI training with Mari, we were practicing assignments in different parts of YKI (reading, listening, writing and speaking). We analyzed situations carefully and Mari showed us examples and answers. During the YKI I was calm, because assignments and situations were already familiar. It was a very good experience to succeed in YKI! Thank you!"
"Thank you Mari for getting ready for YKI! First – I knew what to do in a test. It's great to really understand the instructions! Second – we trained in all kinds of assignments: listening, talking, reading and writing. We trained on a lot of different topics and it helped me in YKI! Thanks to Mari I was calm and prepared. Thanks a lot!"